Living Dead in Dallas
by
Charlaine Harris
My rating:
4 of 5 stars
Okay, I admit it. I bought this book for no other reason than to fill the "second book in a series" box for book bingo. Well, almost no other reason. It's not like I choose this series entirely at random.
True Blood
is one of my guilty pleasures in life. And I've repeatedly heard people praising the books while at the bookstore. So it seemed a safe enough bet.
This book is
candy
. Sticky, rot-your-teeth, pure pleasure but hungry again in an hour candy. The HBO series isn't 100% true to the plot of this book, but the major points are very similar, and Sookie's voice is dead on.
Can't imagine reading this again, and I'll probably give this away at the next Beer, Books, & Pizza night, but I can imagine picking up another Sookie novel when I'm next in the mood for book candy.
View all my reviews
Dare Me
by
Megan Abbott
My rating:
5 of 5 stars
Jessa raved about Abbott ages ago, and I've been meaning to read her ever since. Reading articles on her new book,
The Fever
, brought my simmering interest to a full boil. And I'm not the only one. Karen kidnapped me for a bookstore run and we both bought a copy of it. And we both devoured it.
The phrase that comes to mind (and I'm sure I read it somewhere) is cheerleader noir. It's dark, it's brooding. There are a lot of people making not particularly good choices with motivations often murky even to themselves. But there is a lot of girlness that Abbott gets and writes so well. I was never a cheerleader or in any sport past junior high, but I have had moments here and there where my body felt strong and it did just what I wanted to be able to taste the power of that in her writing. And let's face it. I've spent most my life as the lieutenant, the second-in-command to a more charismatic, forceful girl, though certainly never to one as troubled as Beth. I've felt that loyalty that gets tired, being sucked into parties or situations you think are a bad idea, done the penance for getting too close to another person or activity she doesn't approve of.
Abbott captures all that. In a story that's well paced, with high stakes, always pulling your forward, teasing you with another piece of the puzzle, into the gathering gloom. Smart, tense, impossible to put down.
View all my reviews
A Thread of Grace
by
Mary Doria Russell
My rating:
4 of 5 stars
Somehow, I forgot something very important about Russell that I should have remembered: how ruthlessly and thoroughly she likes to break your heart.
At one time I knew. At one time I was a crumpled mess after reading
The Sparrow
, and then its sequel
Children of God
. Which were amazing books about faith and hope and massive cultural misunderstandings in first contact with an alien race. Still, somehow I was fooled. The word "grace" in the title. The blurb on the back that promises 43,000 Jews saved during the final phase of WWII. It's been a theme I keep looking for, lately. How to do good in evil times. How to recognize the full scope of evil when you're in it.
Parts of this book are uplifting. Parts of this book will make you fear those with absolutely certainty even more than you already do. Her characters are amazing. Flawed, terrified, brave, determined. The risks some of them take are absolutely breathtaking. You will love them. Which is, of course, the danger.
Spoilers ahead.
(view spoiler)
[Everyone fucking dies in the end. 43,000 Jews saved, right? You wouldn't know it from reading this book. Of course it's darkest before the dawn and the Nazis get vicious, wild, as they realize it's all crumbling before their eyes. But all this work. All this bravery and sacrifice. Can you remind me what it was for, Mary Doria Russell? As character after character falls, can you remind me what they bought with their lives? As far as I remember, two named characters survive in the end. One emigrates, lives a long life, never to speak of her war experiences with her children, who describe her as icy and feel they never knew her. One becomes an official in the post-war Italian government, which, when we last see it, is engaged in brutal recriminations against anyone viewed as Nazi sympathizers. Anyone who didn't resist hard enough and did what they could do to stay alive.

No, there are at least two other characters who lived. But still. There is a moment, at the end of the book, where there was the perfect opportunity to send home, even in a wounded and exhausted way, the scope of what all this accomplished. Russell doesn't take it. I know, we try so hard to find things to feel good about in WWII, and maybe Russell thinks we shouldn't feel good. But then don't say this book is about grace, then, okay? (hide spoiler)]
Don't get me wrong. This is an amazing book. I cared so much and I learned so much. And I expected to end the book gutted, bleeding on the floor. I just thought she'd hand me some medicine, instead of telling me to go get some myself.
View all my reviews
The Name of the Rose
by
Umberto Eco
My rating:
4 of 5 stars
This is another book that had been languishing on my shelves for a very long time. I liked the movie ages ago, and one of my best college friends is obsessed with Eco, so I'd bought a few books and have been moving them house to house forever. I'd tried to read this one before, too, but I don't know how many pages of church history and architecture I made it through before I gave up. Have you ever heard anyone say Moby Dick would be a fine book if it weren't for all the damn whaling? Well, I felt this way about this book and church history. But I needed a book for book bingo that was over 500 pages, and this is also on the bookslut 100, so I persevered.
Of course, like the whaling in Moby Dick, it turns out all the church history was important to the book's plot. I just wish I had more hooks to hang it all on in my brain -- so many factions, so many unfamiliar names. I muddled through. But whatever details I missed, it ended up being a great framework for discussing big moral questions -- poverty and wealth, knowledge and who gets to have it, humility, humor, awe.
The experience of reading this book was damaged for me by my partial memories of the movie. I remembered part of the final resolution, but only a small part, so the whole way though I was struggling to make that part fit in with the unfolding mystery at the abbey -- the increasing body count, the hidden heretics, the prophecies of end times.
The more you read of any kind of church history, the more you realize how little of it changes. It must be the human condition. We're always dividing ourselves up and saying
we
have the true belief and
you
are infidels. But as much as it is unchanging, I am grateful that we've left some things behind. Like, you know, the Inquisition, and burning people at the stake.
It was very good. Maybe someday I'll give that other Eco book that's been sitting on my shelves forever a try.
View all my reviews
Song of Solomon
by
Toni Morrison
My rating:
5 of 5 stars
I don't even know how long it would have taken me to finally read this book had not my resolution to read more of the Bookslut 100 converged with book bingo: A book from the bottom of your to-read pile. Not that I have a pile,but if my list were prioritized, it would be near the bottom. I've owned it for years and years. I once picked it up and read about three pages before I gave up and put it back on the shelf. This book was not going anywhere soon.
Sometimes, I am a bit of an idiot.
Okay, so still, the first few pages were a bit bewildering and I had to kind of slog through them. But not much further in and I was
hooked
. I mean, it's not like it's a revelation to say that Toni Morrison is a great writer. I think that has pretty much been covered. But it's still a revelation to discover it for oneself.
What is the power of names? What is the value of knowing your heritage? The overlapping of stories and myths and meaning-making. The
work
of unravelling all of that. I don't know how it can be so foreign and yet so familiar all at the same time. If ever a book made you feel like you'd really walked that mile in a stranger's shoes, this book is on that shelf.
I'm grateful I finally read it.
View all my reviews
The Magician's Nephew
by
C.S. Lewis
My rating:
4 of 5 stars
I read this whole series long ago. As a young adult, I think. I remember liking the stories but being annoyed by the aggressiveness of the religious allegory. Still have my set from then, and recently I put this on the shelf of books Jefferson chooses for his bedtime story.
It was good. As we've read some recent books, I kept thinking that they didn't stand up to the Narnia series, and I was right. This was good, imaginative, and well-paced for reading aloud. Jefferson enjoyed it, and I think I actually enjoyed it more the second time around.
I was shocked, though, when Jefferson didn't choose the next book in the series as his next bedtime book. Maybe he didn't like it quite as well as I thought? But maybe that's not it. He's never been as sequential a reader as I am.
View all my reviews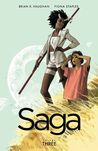 Saga, Volume 3
by
Brian K. Vaughan
My rating:
5 of 5 stars
THIS IS SO GOOD. And weird, and profound, and what-the-hell, and awesome. Okay, listen. There are flying sharks, walrus oxen, psycho ex-girlfriend Gwendolyn suddenly gets almost likable, the opposite of war, a parasite that alters its victim's brain chemistry to trick them into joining the local ecosystem, seahorse businessmen... Not to mention continuing metaphors about what it takes to make a family, raise a child.
A roller coaster of fantasticness. Get your tickets now.
View all my reviews
Pretty Deadly, Vol. 1: The Shrike
by
Kelly Sue DeConnick
My rating:
4 of 5 stars
I wanted to really really love this book. I wanted to be swept away. I am a great fan of DeConnick's writing elsewhere and was eager to see what she could do outside the superhero genre. But I read it through and I was... flummoxed. I had trouble with recognizing characters, couldn't keep up with the shifting storylines... I flipped back and forth but just couldn't work it out. I walked away, perplexed, not understanding how so many people with similar tastes as mine could love this book so hard while I found it confusing and highly derivative. Was there something wrong with me?
A month or so later, as I was getting ready to write this review, I picked it up again and started to flip through it, and ended up reading the whole thing again. And really liking it. There are still a couple of panels I can't figure out no matter how much I try, but I worked my way around them. The art is fantastic, but in places style seemed to win out over comprehension. Which is fair enough, if that's your choice. I have a feeling at least one of the mystery panels will be explained later.
So, everyone says this is Sandman meets Preacher, but with chicks. There's some truth to that, but doesn't that sounds like a book worth reading? The litmus test may be: Are you interested in a story told by an animated robot skeleton to a butterfly?
I'm along for the ride after all. Awaiting the next volume.
View all my reviews
The Ends of Our Tethers: 13 Sorry Stories
by
Alasdair Gray
My rating:
4 of 5 stars
This little book is one of my favorite finds
ever
in the used book section at Schulers. I was expecting to find
no
Alasdair Gray. I was just looking to feel superior or deprived, I suppose, but instead I found
two
books! Now I know I've mentioned that the short story is not my favorite format, but I needed a short story collection for the book bingo challenge at work, and Alasdair Gray should certainly make it more interesting.
For the most part (excepting the last story), this is Gray separated from all his big speculative fiction concepts. There are no portals to other worlds here, no women reanimated from spare parts. Aside from that, they remain true to the themes of Gray's work -- tortured (but usually well-meaning) relationships between men and women, class and politics, art's place in the world...
It's a wonderful little book. Some of the stories are quite strange, yes, full of outsiders and holders of unpopular opinions. Although each story features someone at the end of their tether in some way, for the most part these are people struggling to make the best of whatever the situation they are in. Most of them find a kind of peace, even if it is a sad peace.
Finally, I love the object of the book itself. Its strange little illustrations and the non-standard blocking of the stories. You will not confuse this book for any other book.
View all my reviews
Avengers Assemble: The Forgeries of Jealousy
by
Kelly Sue DeConnick
My rating:
4 of 5 stars
DeConnick continues to write everything I want to read in a superhero comic. There is bleakness here, and hard decisions, but on the whole, these adventures are fun. Witty, smartass banter that feels like it owes a bit of a debt to Whedon, a good mix of familiar characters and fresh (to me, at least) characters. And girls. Girls for days. Female superheroes, female super-villains, female henchmen, female team-leaders, female up-and-coming newbies. And still far from an all-girls club, we still have Wolverine, Hulk, Iron Man, Captain America, and Hawkeye all doing their things.
This collection is a "coming into her own" arc for Spider Girl, who becomes one of the Avengers. There is also plenty of Spider
Woman
in this, which makes me happy. Does she have her own comic? She needs her own comic right now.
I could go on and on. I'll just say I love this team.
View all my reviews